Taproot Spotlight
Taproot pays attention to the people you serve, which pays dividends for your organization.
Keep up on news from members or other connections.
Amplify their successes, milestones, publications, events and opportunities.
Get high-quality, regular newsletter content with little effort from your team.
We can help you if:
You run a member-based organization that needs to show value for recruitment and retention.
You serve stakeholders who would like to stay up-to-date on each other and have their own efforts noticed.
Rhythm
Monthly, bi-weekly or weekly — we'll deliver the content on a schedule that makes sense for you
Delivery
Branded newsletter managed by Taproot or drop-in insert for a newsletter managed by you
Setup
Minimal — tell us who you want to pay attention to, and we'll take it from there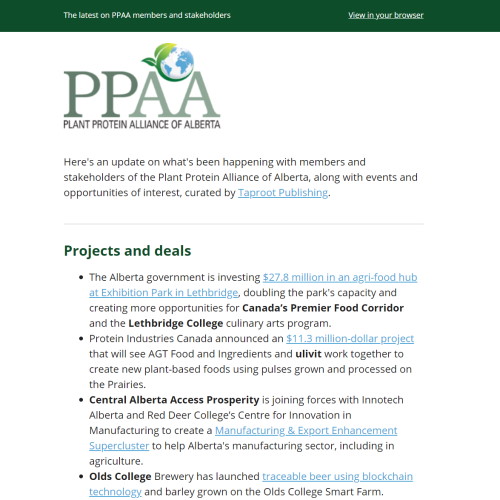 Plant Protein Alliance of Alberta
An update on what's been happening with members and stakeholders of the Plant Protein Alliance of Alberta, along with events and opportunities of interest.
Sent monthly
Delivered as a branded newsletter
ATB Business
An update on what's been happening with current participants and alumni of ATB X and ATB BoostR, two of the entrepreneurship programs offered by ATB.
Sent weekly
Delivered as an insert
---
Investment
The investment you'll make in a Spotlight briefing varies depending on your desired rhythm, delivery method, and content, but typically it ranges from $7,500 to $20,000 CAD per year, plus GST.